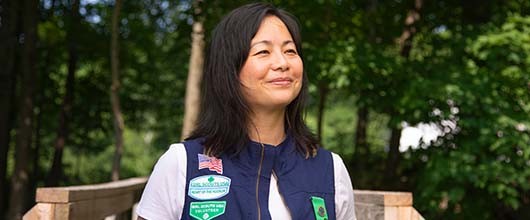 Ways to Recognize Volunteers
Showing love and appreciation for volunteers is a must. After all, our volunteers are Ah-mazing! They/you do it all for the girls and often work extra hours on top of busy schedules and hectic lives. We love them for it and, well, Girl Scouting wouldn't be the same without them. Let's be sure to shout it from the Girl Scout rooftops!
Volunteers can be recognized in the following ways:
 
Everyday little things go a super-long way. A card from the girls, handmade gift, planters, photo keepsakes – these are all ways the girls can say thank you and often times mean the most.


Nominate a special adult for an Adult Award. It's a big deal and there is a ceremony for most awards. Check out the descriptions below for an overview of each award. Be sure to read the detailed criteria for each award before completing the nomination form (Coming Soon!). 
Watch our videos below to learn how to nominate someone for an Adult Award:
Show the World How Awesome You Are!
The all-new Girl Scout volunteer digital badge acknowledges your dedication to fostering emotional, intellectual, and physical growth among girls in your community. You believe in the mission of Girl Scouts, are an asset to our youth's future, and are devoted to making the world a better place.
Do you see a volunteer making an impact in your immediate area –maybe your Girl Scout Service Unit or city? Then these awards would be a great start: 

Appreciation Pin 
for outstanding service to at least one service unit

Honor Pin 
for outstanding service to two or more service units
 

Do you see a volunteer making a larger impact in multiple areas or the council at-large? Then these awards would be a great start:

Heart of Gold 
for outstanding service to the Girl Scout Community and the community at large

Thanks Badge 
for outstanding service that benefits the entire council or GS movement

Thanks Badge II 
for outstanding service having already received the Thanks Badge
The Trefoil Award
is extra special, recognizing a volunteer for service in multiple ways. It is in memory of Linda Scott, and recognizes outstanding service in three areas: work with volunteers, girls, and mission of the council
Do you want to keep it local and have your immediate service unit team of volunteers review/approve? (v. the above awards are all GSWCF-board-level approved) Then, the award below is a great start: 

Volunteer of Excellence
for outstanding service while working directly with girls
Ready to Nominate?


Adult Awards Nomination Form (Coming Soon!)
 
Nominations are due by February 23, 2018