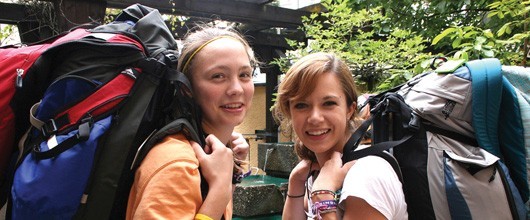 Travel
Every girl deserves a chance to see the world! Girl Scouts offers many different travel opportunities so girls can discover new places, connect and meet new people, learn about different cultures and ideas and take action both domestically and abroad. Whether exploring their own neighborhoods, going on overnight camping trips, participating in community service projects, or flying to one of the four world centers, Girl Scouts are continually expanding their horizons. If you have the travel bug, then Girl Scouts can provide a venue for seeing the country and the world.
COVID-19 Protocols
If your troop is in agreement to travel, and understands the inherent risks, troop camping, travel, and overnight stays are permitted with prior approval. No international travel is allowed at this time.
It is recommended that girls and adults from separate households should travel separately or in small, family-approved groups. A "small, family-approved group" is comprised of multiple families who come to the agreement together that they are aware of and comfortable with the risks, and assume responsibility for members of their families to stay in close contact with another family. All parties must have the proper council waivers and should adhere to standard COVID-19 safety and hygiene protocols.
The safest recommendation is to plan sleeping arrangements where members of different households are in separate quarters.
Service units can approve travel for trips up to two overnight stays; council approval (obtained through your Community Membership Manager) is required for trips lasting three nights or longer.
Troops should continue to follow standard Girl Scout COVID-19 protocols and check for any local COVID-19 guidelines which may vary greatly from business to business, state to state, or town to town.
Consider purchasing travel insurance. If you do, read all fine print and ensure COVID-19/pandemic-related cancellation is covered as it is often excluded.
Follow the CDC's guidance for pre-screening and symptoms check and check the CDC Domestic Travel Guidance details about various types of travel, risk factors, and steps to mitigate risk.
Best Practices for eating meals while traveling include:​
Avoid situations that require using shared utensils (buffets, salad bars, self-service, counter food service, etc.).
Use "grab-n-go" services or boxed meals in which meals are pre-packaged or assembled on a tray for diners to retrieve.​
Dine outside or in open-air facilities whenever possible.
Transportation
If carpooling with other members, keep car windows opened, at least slightly, to circulate fresh air. Routinely disinfect the car handles, seats, and any touchable surfaces.
Avoid public transportation whenever possible. If it is not possible to avoid, you may seek council approval. Be sure to take in to consideration the following specific safety guidelines:  
Avoid peak hours.
Allow extra time to wait in order to avoid crowded buses, subway cars, or capacity restrictions.
Consider grade level, age, and maturity level of girls.
Obtain parental or legal guardian permission, and make sure they are aware of your plans.
Clean hands before and after public transportation travel.

Travel the World with Girl Scouts!
Girl Scouts love to travel—from the field trips they take as Brownies to the global adventures they go on as teens. If you love exploring different places and cultures, then Girl Scouts is the place for you.

You can experience all that our country has to offer, whether you're "blasting off" at Space Camp in Alabama, taking in a Broadway show in New York City, or visiting the birthplace of Girl Scouts' founder, Juliette Gordon Low, in Savannah, Georgia. And you can plan even bigger adventures around the world, traveling with other Girl Scouts who share your love of adventure.

Check out Girl Scout Destinations, the ultimate adventure program for girls ages 11 and older. With a ton of different trips to apply for every year—from surfing camp on the east coast and breathtaking hikes out west, to the crazy-cool wonder of new cultures abroad—there's something amazing for everyone to experience.
Make friends from all over the country as you travel with Girl Scouts from different states, see and learn new things, and pack your bags full of inspiring, life-changing experiences and memories. Find your trip today!

Where can you go?  Places like China, Costa Rica, Switzerland, Patagonia, Peru, Scotland, Germany, Mexico, and more!
How far will your Girl Scout experience take you? That's up to you!
For more information about Girl Scout Destinations travel programs available please contact Alison Wernicke.
For general travel questions and to submit the Troop Trip Planning Form, please contact Troop Support.