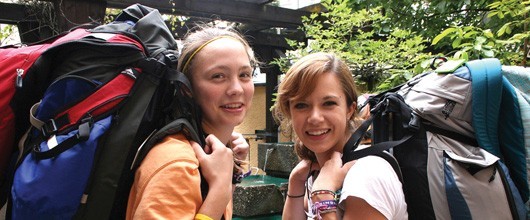 Travel
Every girl deserves a chance to see the world! Girl Scouts offers many different travel opportunities so girls can discover new places, connect and meet new people, learn about different cultures and ideas and take action both domestically and abroad. Whether exploring their own neighborhoods, going on overnight camping trips, participating in community service projects, or flying to one of the four world centers, Girl Scouts are continually expanding their horizons. If you have the travel bug, then Girl Scouts can provide a venue for seeing the country and the world.
COVID-19 Protocols
If your troop is in agreement to travel, and understands the inherent risks, troop camping, travel, and overnight stays are now permitted with prior approval.   
Troops wanting to travel outside the USA can seek approval to CDC determined level 1 & 2 countries.  All requests to travel to countries listed as level 3 will be evaluated on a case by case basis.  No travel will be approved for level 4 countries. For details visit the CDC website before planning your excursion.  All extended and overnight trips must be approved by completing an application. 

It is strongly recommended that troops make sure all trips have at least one adult (or two, depending on group size) beyond ratio requirements, if one or more people have to quarantine. 

 Remember to plan with the girls, stay safe and have a great time!


Travel the World with Girl Scouts!
Girl Scouts love to travel—from the field trips they take as Brownies to the global adventures they go on as teens. If you love exploring different places and cultures, then Girl Scouts is the place for you.

You can experience all that our country has to offer, whether you're "blasting off" at Space Camp in Alabama, taking in a Broadway show in New York City, or visiting the birthplace of Girl Scouts' founder, Juliette Gordon Low, in Savannah, Georgia. And you can plan even bigger adventures around the world, traveling with other Girl Scouts who share your love of adventure.

Check out Girl Scout Destinations, the ultimate adventure program for girls ages 11 and older. With a ton of different trips to apply for every year—from surfing camp on the east coast and breathtaking hikes out west, to the crazy-cool wonder of new cultures abroad—there's something amazing for everyone to experience.
Make friends from all over the country as you travel with Girl Scouts from different states, see and learn new things, and pack your bags full of inspiring, life-changing experiences and memories. Find your trip today!

Where can you go?  Places like China, Costa Rica, Switzerland, Patagonia, Peru, Scotland, Germany, Mexico, and more!
How far will your Girl Scout experience take you? That's up to you!
For more information about Girl Scout Destinations travel programs available please contact Alison Wernicke.
For general travel questions and to submit the Troop Trip Planning Form, please contact Troop Support.