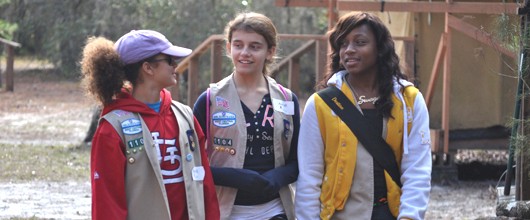 Cadettes (6-8)
Looking for tools to help your Cadettes take on an exciting new year? You've come to the right place! Let's get started -
Your Support:


Lead the Way:

To receive an updated copy of your troop roster, please email:


For up-to-date information on volunteer systems - click here
Are you a new leader? This New Leader Troop Start-Up Guide is here to help you get started with your new Girl Scout troop!


Don't forget your Core Trainings –



Managing Troops & Groups (COMING SOON!)

Have you heard about our Resource Center?
Check out the council patch programs we offer!


Troop sleepovers, hold meetings, rent out the Girl Space – all at The Leadership Center


Looking for some inspiration for fun activities for your troop? We've created a Pinterest board


Take your troop camping


Overwhelmed by forms? We've made it easy, here's a checklist created just for you:


Cadettes are ready to make your community a brighter place and what better way to do that than through the highest honor a Girl Scout Cadette can earn – the Silver Award. Help her get started today!