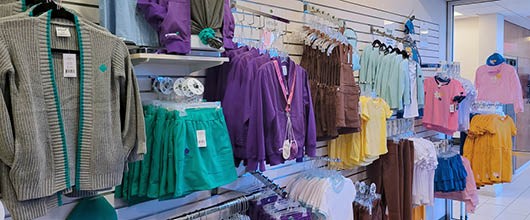 Shops
Looking for Girl Scout gear? You've come to the right place! Our Girl Scout Stores have all your Girl Scout essentials and more.

Journey books, badges, uniforms, apparel, bags, fun patches...you name it! We've got your Girl Scout (and you!) covered.
Locations and Hours


Tampa Leadership Center
4610 Eisenhower Blvd., Tampa, FL
HOURS
Monday, Tuesday, Thursday & Friday: 10 a.m. – 6 p.m.
Wednesday: 10 a.m. - 7 p.m.
Saturday: 9 a.m. – 2 p.m.
Sunday: Closed
Exceptions: Closed Feb. 20 (Holiday)

Wildwood Store
9583 CR 223, Wildwood, FL
HOURS
Thursday: 9 a.m. – 7 p.m.
Friday: noon – 6 p.m.
Saturday: 9 a.m. – 3 p.m.
Sunday: 9 a.m. – 12:30 pm (NEW)
Closed: Monday, Tuesday, Wednesday
Store Promotions


Celebrate Presidents Day Weekend with FREE Standard Shipping 2/15-20 on orders made online totaling $99/or more


Super Saturday SALE – February 18 - Talk about using your resources wisely! Purchase a reusable tote bag for $2.85 at the GS Store and fill it with everything you need and save 15% off everything including the bag! NO EXCLUSIONS! Offer good at our Tampa and Wildwood store on Saturday, February 18.


Happy World Thinking Day – February 22 - Celebrate World Thinking Day and Global Awareness with unique earned badges available at the Girl Scout Store for $1.50 each.    


National Cookie Weekend is February 24-26 - Join Girl Scouts across the country February 24-26 by participating in the 2017 National Girl Scout Cookie Weekend, celebrating all of the fun and excitement Girl Scouts have had selling cookies for ONE HUNDRED years! Stop by the store to get your 2017 National Girl Scout Cookie Weekend patch for as well as other cookie fun patches and the 2017 Cookie Activity Pin. 


February 22—28, Buy Any Official Uniform Component and get 20% off any top - Receive a free backpack with the purchase $50 in core essentials at all age levels. Whether girls are new to Girl Scouts or returning they can purchase qualifying items in the store and receive a FREE BAG!


BE PREPARED! Girl Scout 105th Birthday is March 12 - Get the Party Started! Girl Scout Birthday is March 12 and Girl Scout Week is March 12-18 Take advantage for TWO DAYS ONLY Save 12% off your Total Purchase (online or in-store). We have everything you need to celebrate! Cupcake liners, trefoil shaped baking pans and cookie cutters, GS Confetti, ribbon, napkin and balloons. We also have fun patches for GS Week, GS Sunday, Sabbath and Shabbat.