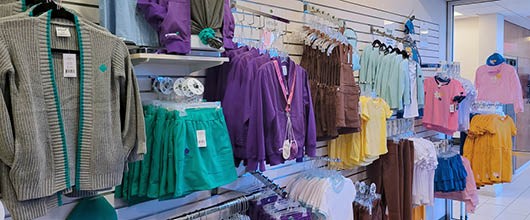 Shops
Looking for Girl Scout gear? You've come to the right place! Our Girl Scout Stores have all your Girl Scout essentials and more.
Journey books, badges, uniforms, apparel, bags, fun patches...you name it! We've got your Girl Scout (and you!) covered. 
Our retail stores carry everything to meet all your Girl Scouts needs all year! Please visit our store for great sale prices and specials. And you can also shop by visiting our online store that is open 24/7 or for an additional shopping option; pre-order and pick-up: 813-262-1793 or email GSStore@gswcf.org
Stay connected.
Please note that our hours do change during the non/peak summer months. Notification of shop hours or closings will be sent to our Girl Scout family via our monthly newsletters and posted on our Facebook page.
Locations and Hours


Tampa Leadership Center
4610 Eisenhower Blvd., Tampa, FL
HOURS
Monday, Tuesday, Thursday & Friday: 10 a.m. – 6 p.m.
Wednesday: 10 a.m. - 7 p.m.
Saturday: 9 a.m. – 2 p.m.
Sunday: Closed

Wildwood Store
9583 CR 223, Wildwood, FL
HOURS
Thursday: 9 a.m. – 7 p.m.
Friday: noon – 6 p.m.
Saturday: 9 a.m. – 3 p.m.
Sunday: 9 a.m. – 12:30 p.m.
Closed: Monday, Tuesday, Wednesday
Store Promotions


Starter and Essentials Kits
Now is the perfect time to purchase your Girl Scout a Starter or Essentials kit. The Starter Kit is ideal for girls who are bridging as it includes everything they need plus a cute Girl Scout canvas drawstring bag FREE ($14 value). If your Girl Scout is not bridging you can build your own Essential Kit by choosing from a list of official essentials and get a FREE BAG when your total reaches $50 for one grade level.
Fill the Van Cereal for Summer!!
We will be collecting breakfast items like oatmeal, cereal, pop tarts and granola bars from April 3 through Friday, May 5th. We still have a limited supply of our Fill the Van patches and we will give them to all girls making a donation while supplies last. We will also accept donations at our Shops on the Road! Find attached more information from Feeding Tampa Bay. Encourage parents/leaders to take take a picture with their donation or by our van and tag on social media! #GSMoments  #CerealforSummer #HungerHeroes
Tax Break Sale!!
Sunday, April 16- Wildwood and April 17- Tampa, Take 17% off entire order. Excludes camp care kits. (we have a sign in sign kits)
Girl Scout Volunteer and Leader Appreciation Day is April 22
On April 19 from 11-1:30 or 5-6:30 at the Tampa store volunteers will be able to learn about the online Volunteer Toolkit, troop travel, and early bird registration. All troop leaders who attend will receive a 15% discount at the store during the event and will be entered to win door prizes.
It's Your Planet Love It! Earth Day is April 22
Show leaders our new fun patches for earth day, recycling, and community service.
Online Specials:
To celebrate Earth Day on April 22nd get a free Gift with $75 purchase while supplies last
Free Shipping April 22-24 on purchase of $99 or more
Spend $50 or more and receive a free Gift with purchase May 3-6 while supplies last