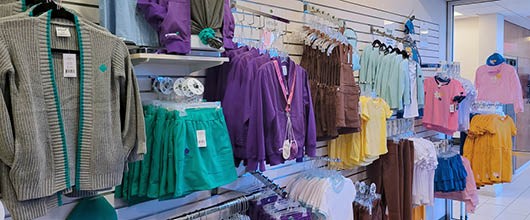 Shops
Looking for Girl Scout gear? You've come to the right place! Our Girl Scout Stores have all your Girl Scout essentials and more.
Journey books, badges, uniforms, apparel, bags, fun patches...you name it! We've got your Girl Scout (and you!) covered. 
Our retail stores carry everything to meet all your Girl Scouts needs all year! Please visit our store for great sale prices and specials. And you can also shop by visiting our online store that is open 24/7 or for an additional shopping option; pre-order and pick-up: 813-262-1793 or email GSStore@gswcf.org
Stay connected.
Please note that our hours do change during the non/peak summer months. Notification of shop hours or closings will be sent to our Girl Scout family via our monthly newsletters and posted on our Facebook page.
Locations and Hours


Tampa Leadership Center
4610 Eisenhower Blvd., Tampa, FL
Summer Hours
Monday-Friday: 10 a.m. - 6 p.m.
Saturday and Sunday: Closed
Exceptions: We will be closed July 3-4 and July 24

Wildwood Store
9583 CR 223, Wildwood, FL
Summer Hours
Monday: Closed
Tuesday: 3-6 p.m.
Wednesday: 10 a.m. – 2 p.m.
Thursdays: 3-6 p.m.
Friday: Closed
Saturday: 11 a.m. – 2 p.m.
Sunday: Closed

Note: Wildwood serves residential campers June 4 – July 29. Expect camper activity in the store on weekdays.
Exceptions: We will be closed July 4 and July 31 – Aug. 3
Store Promotions


Celebrating Girl Scout Dads
Do you have an awesome Girl Scout Dad to recognize? Stop by one of our stores from June 12 – 16 and pick up a Girl Scout Polo in navy or white, an "Awesome Dad" or "Man Enough to be a Girl Scout" T-shirt, or pre-order our new "Proud Girl Scout Dad" T-Shirt and get 15 % off your entire purchase! Offer does not apply to online purchases or past purchases; valid in Tampa and Wildwood store locations only.
Semi Annual Clearance Event
From June 28 – July 17 take an additional 50% off the price of current clearance items. Offer available online and in-store.
#CAMPLIFE is the BEST Life ALL Summer long!
June is Great Outdoors Month and Girl Scout Summer Camp started this week so it's the perfect time to get all of your needed outdoor gear. Plus, The Great American Eclipse is right around the corner (August 21). Get ready with your map, book and glasses! Buy all three for a special price of $19.99.