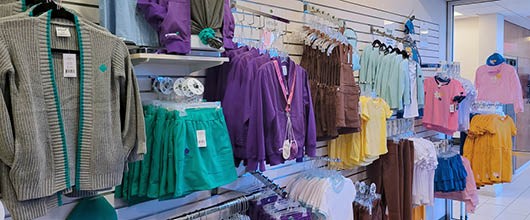 Shops
Looking for Girl Scout gear? You've come to the right place! Our Girl Scout Stores have all your Girl Scout essentials and more.
Journey books, badges, uniforms, apparel, bags, fun patches...you name it! We've got your Girl Scout (and you!) covered. 
Our retail stores carry everything to meet all your Girl Scouts needs all year! Please visit our store for great sale prices and specials. And you can also shop by visiting our online store that is open 24/7 or for an additional shopping option; pre-order and pick-up: 813-262-1793 or email GSStore@gswcf.org
Stay connected.
Please note that our hours do change during the non/peak summer months. Notification of shop hours or closings will be sent to our Girl Scout family via our monthly newsletters and posted on our Facebook page.
Locations and Hours


Tampa Leadership Center
4610 Eisenhower Blvd., Tampa, FL
Hours
Monday, Tuesday, Thursday: 10 a.m. - 6 p.m.
Wednesday: 10 a.m. -7 p.m.
Friday: 10 a.m. – 6 p.m.
Saturday: 9 a.m. –3 p.m.
Exceptions: Closed for Labor Day weekend, September 2 & 4

Wildwood Store
9583 CR 223, Wildwood, FL
Hours
Monday: 10 am – 6 pm
Saturday: 8:30 a.m. – 3 p.m.
Sunday: Sunday 8:30 am – 1 p.m.
Closed: Tuesday, Wednesday, Thursday, Friday
Exceptions: Closed for Labor Day weekend, September 2, 3 & 4
Store Promotions


Super Saturday Sale!
Talk about using your resources wisely! Purchase one of our new reusable tote bags for $5 and fill it with everything you need and save 15% on everything including the bag! Offer good only at our Tampa and Wildwood store on Saturday, August 26
Buy Now, Save Later!
We have all your Girl Scout essentials, accessories, books, clothing and more! Check out all our new looks for fall for both girls and adults including new official shirts for girls and adults. If you spend $75 August 21 thru October 16, you'll receive a $10 coupon valid on a $25 or more purchase from November 1-22 ($10 coupon not valid on girl earned award purchases).