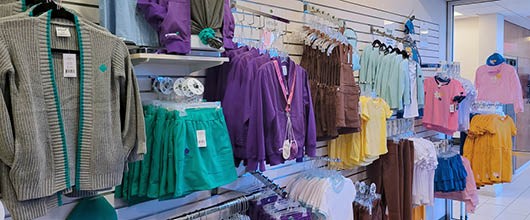 Shops
Looking for Girl Scout gear? You've come to the right place! Our Girl Scout Stores have all your Girl Scout essentials and more.
Journey books, badges, uniforms, apparel, bags, fun patches...you name it! We've got your Girl Scout (and you!) covered. 
Our retail stores carry everything to meet all your Girl Scouts needs all year! Please visit our store for great sale prices and specials. And you can also shop by visiting our online store that is open 24/7 or for an additional shopping option; pre-order and pick-up: 813-262-1793 or email GSStore@gswcf.org
Stay connected.
Please note that our hours do change during the non/peak summer months. Notification of shop hours or closings will be sent to our Girl Scout family via our monthly newsletters and posted on our Facebook page.
Locations and Hours


Tampa Leadership Center
4610 Eisenhower Blvd., Tampa, FL
HOURS
Monday, Tuesday, Thursday & Friday: 10 a.m. – 6 p.m.
Wednesday: 10 a.m. - 7 p.m.
Saturday: 9 a.m. – 2 p.m.
Sunday: Closed

Wildwood Store
9583 CR 223, Wildwood, FL
HOURS
Thursday: 9 a.m. – 7 p.m.
Friday: noon – 6 p.m.
Saturday: 9 a.m. – 3 p.m.
Sunday: 9 a.m. – 12:30 pm (NEW)
Exceptions:
Sunday, March 5 – open from 9 a.m. to 3 p.m.
Sunday, April 2 – open from 9 a.m. to 4 p.m. 
Closed: Monday, Tuesday, Wednesday
Spring 2017 mobile Shop on the Road!
And just in time for award season. See where you can catch up with our mobile shop. BONUS! Place an order ahead of time and we'll bring your items out to you at one of our stops!
Store Promotions


Starter and Essentials Kits
Now is the perfect time to purchase your Girl Scout a Starter or Essentials kit. The Starter Kit is ideal for girls who are bridging as it includes everything they need plus a cute Girl Scout canvas drawstring bag FREE ($14 value). If your Girl Scout is not bridging you can build your own Essential Kit by choosing from a list of official essentials and get a FREE BAG when your total reaches $50 for one grade level.

SHOPapalooza!
STEMapalooza is just around the corner so bring your troop to get their STEM on at the GS Store. Fun STEM activities will be held during SHOPapalooza and all girls will receive a FREE patch just for attending (one per girl). Everyone who attends SHOPapalooza and has registered their troop to attend STEMapalooza at MOSI or registers 2 or more girls during this event will also receive a 10% discount on their entire store purchase! Join us on:
• Wednesday, March 15 at the Tampa Store, 5 - 7 p.m.
• Saturday, March 25 at the Wildwood Store,11 a.m. - 1 p.m. 
Spring Ahead with Savings March 15-18th!! 
• All fun patches and girl accessories 10% off
• All cookie merchandise - 10% off
• Plush and holiday - 20% off
• New Markdowns! Take an additional 10% off already reduced clearance items
• All camp T-Shirts - 20% off (while supplies last)
Happy April Fool's Day 
This is no joke! Spend $60 or more and Get 20% off your total purchase! Offer available online, and in both the Tampa and Wildwood Store. Excludes tunics, sashes, vests, insignia and awards.
Looking Ahead!
We LOVE our volunteers!! National Volunteer Week is April 23-29 and Leader's Day is April 22nd. Show your Girl Scout leader some love by picking her something up at the Girl Scout store! We have gifts that every Girl Scout will love!