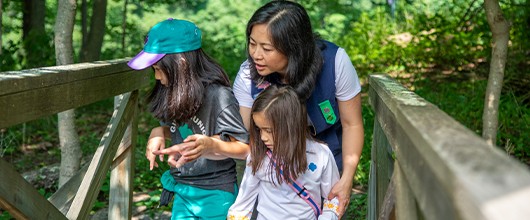 Troop Camping
Sun. Sisterhood. S'mores.
Camping with your troop is an awesome opportunity to explore our camps and bond with your Girl Scout sisters as you take part in all the big adventures waiting for you at camp! Together you will try new things, learn life lessons, and gain memories that you won't soon forget!
Troop camping is a year-round camping experience, planned and carried out by a group of girls and their leaders at a council property or council-approved site.   
The new registration features an availability calendar that lets you to quickly locate which camp you'd like to reserve and walks you through the entire selection process from the preferred sleeping units to the amenities you can add-on to enhance your experience.

Want to hold your troop meetings at camp? Please contact Camp Reservations to reserve your meeting space; 813-281-4475, campreservations@gswcf.org
Check out the information below for help planning your camping trip:
Ready for a challenge? We've got that! Both Camp Dorothy Thomas and Camp Indian Echo have challange course elements! Fill out our interest form to request your adventure today! Completed interest forms are required to receive a reservation.
Want to ride? The horses are waiting. Check out the Camp Wildwood Equestrian Experiences. Then fill out our interest form. Completed interest forms are required to receive a reservation. You'll also need permission forms (girl and adult), and a waiver.
We have volunteers who love to teach archery, canoeing, kayaking, lifeguarding and more. Find a trained outdoor facilitator for your trip.
Inviting non-Girl Scouts? Make sure to purchase your Tag-a-long insurance by contacting Maurna Williams at 813-262-1771.


Need help? Not a problem! Contact us at: 
Resources:
 
Outdoor Program Facilitators List

NEW Outdoor Videos for Volunteers - Use these videos to give girls a sense of empowerment in the outdoors, show them how to use natural resources more wisely (including respecting our environment and wildlife), and help them become lifelong stewards of the land and our natural resources.

Step by step: Developing Outdoor Skills in Girls
Planning Your Troop's First Campout
Introduction to Campsite Set-up
Introduction to Cooking Outside
How to Leave No Trace Outdoors