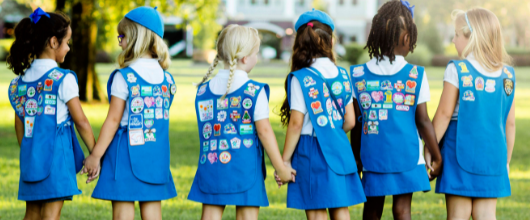 Council Patch Programs
Through council patch programs, girls are able to connect with their community on a whole new level! Girls will be able to develop new relationships with local organizations and learn all about what their communities have to offer!  
Each program has a list of requirements and once girls have completed the project - they earn an awesome new patch!

Looking for more information? Want to order patches? Sure!
Contact Lisa Ranon, Troop Support Specialist
Featured Patch Programs:

Reader Leader GSWCF Council Wide Cause - D, B, J, C, S, A
Join in GSWCF's Council Wide Cause for promoting reading and literacy in the community. Girls will discover their inner storyteller, learn about illiteracy in their community, and Take Action by planning a reading event or book drive.

Cost: Patches are free in the Resource Center, while supplies last.
STAR Troop - D, B, J, C, S, A
The S.T.A.R. Troop patch program helps troops attain a well-rounded Girl Scout experience by participating in various programs and fun activities throughout the membership year. Interested troops must register to participate. 
Cost: Patches are free in the Resource Center. Interested troops must register to participate and recieve their patches. 

Patch Programs:  
Attitude of Gratitude! - D, B, J, C, S, A
Discover the meaning of gratitude and appreciation, how to apply gratitude and appreciation in your and others lives, and how to show appreciation to the volunteers who help make Girl Scouting AWESOME, including nominating volunteers for Girl Scout Adult Awards!

Cost: Patches are free for members of GSWCF; patches 
for members of other councils are $1.00 each.  Order Here, while supplies last.

Conservation Champions - B, J, C, S, A
Environmental stewardship and wildlife conservation education inspires girls to take leadership in their communities to promote a better world. The Conservation Champions patch encourages girls to explore how learning about the environment helps them to develop leadership skills, explore careers, discover how their actions can impact the planet, and learn how to identify and solve problems in their communities.

Cost: $2.00 each, GSWCF Store

Florida Manatee - B, J, C, S, A
Protecting our environment and preserving it for future generations is a duty we all share. Manatees, endangered marine mammals, will not survive without the concern and awareness of people who share their habitat. The purpose of this program is to inform and encourage public awareness of the dangers facing the Florida manatee.
Cost: $2.50 each, GSWCF Store
Funstronomy - D, B, J, C, S, A
Discover astronomy through the Funstronomy patch program designed for all levels. Connect with the equipment available at GSWCF camps and beyond. Take Action to share astronomy with others and make the world a better place.
Cost: $2.00 each, GSWCF Store

Free Being Me - D, B, J, C, S, A
Did you know that six out of ten girls stop doing what they love because they feel bad about the way they look?"  GSUSA, in partnership with the World Association of Girl Guide and Girl Scouts (WAGGGS) and Dove, has launched Free Being Me, a global leadership program developed to give girls a safe space to strengthen their self-confidence. Using the It's Your Story, Tell It! Journeys, together with the Free Being Me curriculum, girls explore issues of beauty and body confidence and build their leadership skills.
Cost: Patches are free, while supplies last. Order here.

Girl Scouts Global Action - D, B, J, C, S, A
The Girl Scouts Global Action patch is an exciting and enriching way for Girl Scout Daisies through Ambassadors to participate in realizing the United Nations' Millennium Development Goals which aim to reduce extreme poverty and impact major world concerns by 2015. The alliance between WAGGGS and the United Nations' Millennium Development Goals embraces WAGGGS' mission of empowering girls and young women to develop to their fullest potential as engaged and responsible global citizens. 
Cost: $3.00 each, GSWCF Store
HART Transit Patch Program - D, B, J, C, S, A
How do you get around town? HART (Hillsborough Area Regional Transit) is helping girls discover available transit options in the community, experience how to connect with public transit, and become a transit advocate by sharing your experiences. This patch must be earned as a troop.
Cost: Patches are available for free from HART, while supplies last (not available through GSWCF Stores or Resource Center). Once your troop completes the program requirements, fill out the form on the last page of the requirements above, and submit to HART Community Relations to obtain your patches.
Hispanic Heritage - D, B, J, C, S, A
Hispanics are the fastest growing segment of the U.S. population. Discover how many Hispanics are living in your county; learn about the Hispanic influence in Tampa and develop awareness and appreciation of diversity.

Cost: Patches are free, while supplies last. Order here.

Make Freedom Count - D, B, J, C, S, A
Learn the history of voting in Florida and earn the Make Freedom Count Patch by completing at least two activities from Discover, Connect and Take Action.
Cost: $2.00 while supplies last, GSWCF Store
Preserving Tampa's Past - B, J, C, S, A
Did you know that Tampa is the home to the second Girl Scout Troop started? Girl Scouts will look at the history of Tampa and the contributions made by H.B. Plant and the railroads. Girls will learn about the preservation and protection of historic sites and memorabilia. The centerpiece of this patch program is a visit to the historic landmark, the H. B. Plant Museum. 

Cost: Patches are free, while supplies last. Order here.

Reading Diva - D, B, J, C, S, A
Read more to earn more. How long will your caterpillar be? 

Cost: Head Segment/$1.25 each, Body Segment/$1.00 each, Set of 1 head and 4 body segments/$5.00 each, GSWCF Store
Share the Season - D, B, J, C, S, A
Learn about holiday customs from different countries, cultures, and religions from around the world. Connect to your own community by participating in a local holiday event or activity. Make a difference in your community by looking for a need and choosing a service project that will address that need.

Cost: $1.50 + shipping. Patch orders must be received by December 8, 2017-No Exceptions! Orders may be placed before activities are completed. Please see attached order form for shipping prices.